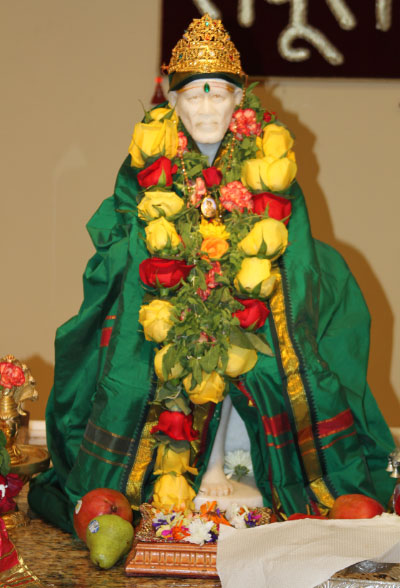 Whosoever offers to me, with love or devotion a leaf, a flower, a fruit or water that offering of Love of the pure and self-controlled man is willingly and readily accepted by me. ( Gita 9:26)
For an ordinary man, the abstract idea of Nirguna Bhrama a formless concept of God has always been incomprehensible. Our faith , love and devotion do not develop unless we worship a Sagun Brahma. We should start with sagun worship. In the Temple we provide a positive medium to connect the devotees to the supreme with the practice of Daily worship and Aartis.
Worship that is performed with all the different accessories like Flowers, Garments, Ornaments creates in the mind of the devotee a distinctive attachment for the Lord. This worship and prayer provide the an un describable Shakti or power of God and eventually helps is to know pure existence, knowledge and bliss.
In the temple we perform daily 4 Aartis and the whole atmosphere created by the resounding music of the auspicious sounds and lyrics leads to high concentration and a feeling of oneness in the congregation and ultimately guides devotees towards Bhakti path.
We use lamps with lighted wicks in ghee and are waved before Baba. Light produced by the fire is considered auspicious . This ritual also helps the devotees guide towards Bhakti path.Our humble prostration to this all pervasive Sadguru as we experience pure bliss.
In our temple like the Sansthan in Shirdi we offer daily 4 Aartis to our lord. Come and join us and feel the power of place where it's sung and experience it for yourselves.
Please see the attached Sai Baba Aarti booklets and check the home page for Aartis timings.
SAI Prayer BOOKS
At present we have prayer books in five different languages :
Full Prayer Service in Boston, Greater Boston available. All Prayer Services inside the temple are no charge.
Sai Aarti Audios
| Lailita Sahasra Nama Stotram | Vishnu Sahasra Nama Stotram |
| --- | --- |
| | |
| | |
Sai Aarti Videos
Stories
--------- Content Coming Soon------------
Monthly Reading Plan
--------- Content Coming Soon------------
Priest Services - Inside and Outside Temple Services
Services Offered: All the Hindu ritual services are now being performed by the Temple Priests – Krishna Moorthy Vyakaranam and Nagendra Shastry both inside and outside of the temple. For Boston or Greater Boston area Priest Services, Hindu Priest Services, NH Priest Services, please contact us.
How to Request: For any priest services, please contact temple by sending an email to maildrop@nessp.org or by calling the temple number: 978-528-1985.
Inside Temple Services: The uniqueness of our Sai temple
Uniqueness of our Sai temple: There will be NO fees for the following services done in the temple:
Car Pooja (with suggested donation)
Samuhik Archana
Samoohika Satyanarayana Pooja
Samuhik Sai Satya Vratam
Karva Chauth Pooja
Samuhik Rudrabhishekam
Samuhik Seetharam Kalyanam
Any individual based Service which takes less than half an hour. This service will be "reserved" base service with suggested donations. No service in the temple on Thursday evening.*
* There are certain pooja services (by Boston Area Hindu Priests) that can be performed in the temple and the duration of which normally does not exceed 30 to 40 minutes. Such services are normally done by a single family without inviting many guests. Currently there is no specified service charge when a service is performed within the temple and as always these services can be availed with suggested donations. Example of such services are: Namakaranam, Anna Prasanam, Aksharabhyasam, Mundan Ceremony. Please note that these services can be performed at the "residence" of the requester or any other place of their choice (for example Unit#3). In such cases, these would be treated as "Outside of Temple".
Outside Temple Services: The following table lists various services normally offered by temples (but not limited to this list) at the requester's residence or any other location (outside of Temple). Please note that outside temple services are paid services. Please send email to maildrop@nessp.org for additional information.
Service Name
NamaKaranam
Anna Parasan
Aksharabhyasam
Griha Pravesham
Mundan Ceremony
Sathya Naarayana Pooja
Navagraha Homam
Birthday / Ayush homam
Thread Ceremony
Wedding
Others
Priest Dakshina: It is general practice to give some Dakshina to the Priest and this will be in the form of "suggested dakshina" (no specified amount).