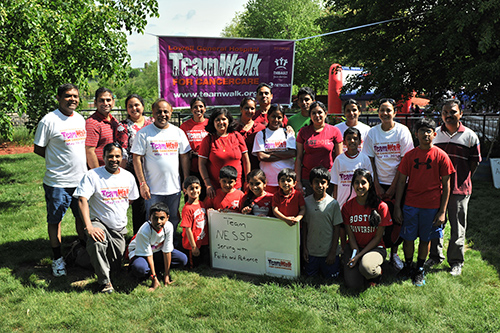 We firmly believe in an all round development of the community and a full support for our youth who will be citizens of tomorrow. All our activities are focussed to bring back to the community. It's said " What you Give Stays with You".
Charitable Activities
Sai Baba by his own example has showed the path of service to humanity. He took care of the sick and the needy himself, cooked food and served with his own hands to all. He was also a generous donor, giving away all the dakshina that devotees gave him to the needy and remained a fakir always.
NESSP strives to serve the community by following the Sadguru's example. The different charitable activities we have undertaken in the past are:
Annadaan - Distributing cooked food from Sai Bhandara to homeless shelter in Lowell MA.
Winter Clothes Drive - Collection and distribution of warm winter clothes to the needy.
Service - Our volunteers took part in a landscaping project at the Stoneham Zoo to beautify its look for the visitors.
Children's Hospital - NESSP Team has been regularly participating in the Annual Cancer Care walk for Lowell Children's Hospital to raise money for the hospital.
Blood Donation Twice a year Blood Donation with Red Cross
Thank you letter for supporting Youth Villages Back-to-School Drive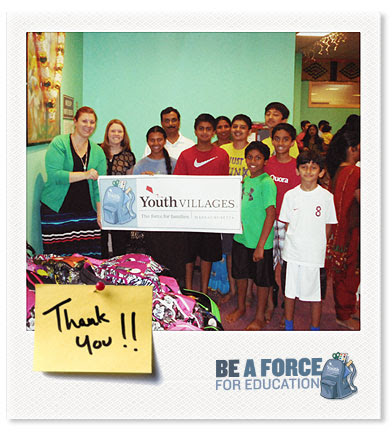 "Real generosity toward the future lies in giving all to the present." -Albert Camus
A special thank you to the NESSP team for helping make Youth Villages' 5th Annual Back-to-School Initiative such a success! Your gifts of backpacks and school supplies will allow children helped by Youth Villages Massachusetts to start the new school year off on the right foot.

This simple yet powerful thank you letter written by a grateful young boy who received a backpack during a past initiative filled with the latest school supplies puts into words the impact your support has on our youth.

We'd love to stay in touch with you and periodically inform you about the success of our programs, volunteer initiatives and individual children and families.
"Thank you so much for the school supplies. I really needed those things. My mom can't afford those things right now, so you guys saved me. Thank you so much."
2011 Winter Drive with Cradles to Crayons (The Giving Factory)
In the month of January we are collecting kids (infant - 18 year old) winter outer wear clothing and footwear for our winter donation drive for an organization called "Cradles to Crayons The Giving Factory"(www.cradlestocrayons.org) .We will be collecting, New or Gently used
Jackets
Snow pants
Fleece
Mittens
Hats
Shoes and Boots
If you would like to help us with this cause, please bring these to the temple on your next visit. You can also help us by spreading the word, by telling your friends, neighbors, and co-workers about it.
Yoga classes : Saturday 9:00am -10:00 am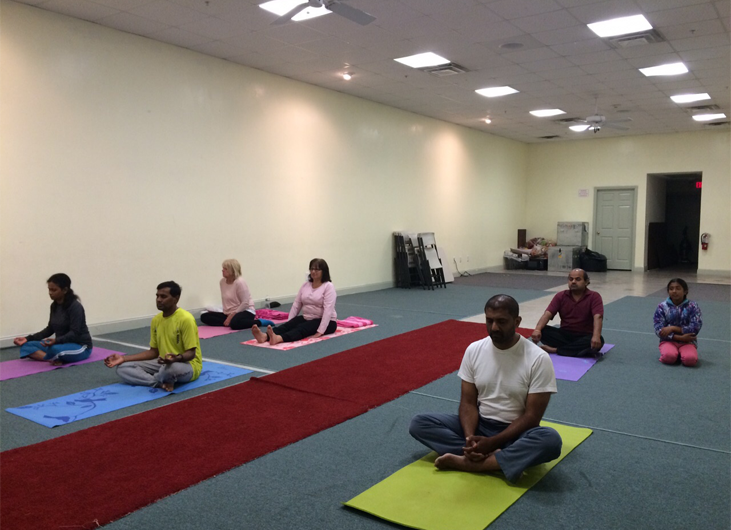 Dear Sai Devotees,
There has been a lot of interest in our devotees to do yoga practice together in the temple. With Baba's blessing we found a certified instructor in Chelmsford,who is volunteering to teach us Yoga once a week. So starting this Saturday on Dec 4th 2010, we will have yoga, pranayama and meditation practice in the temple every Saturday from 09:00 AM to 10:00 AM.
Click here to register!
Meditation classes: Saturday 8:00am-8:55am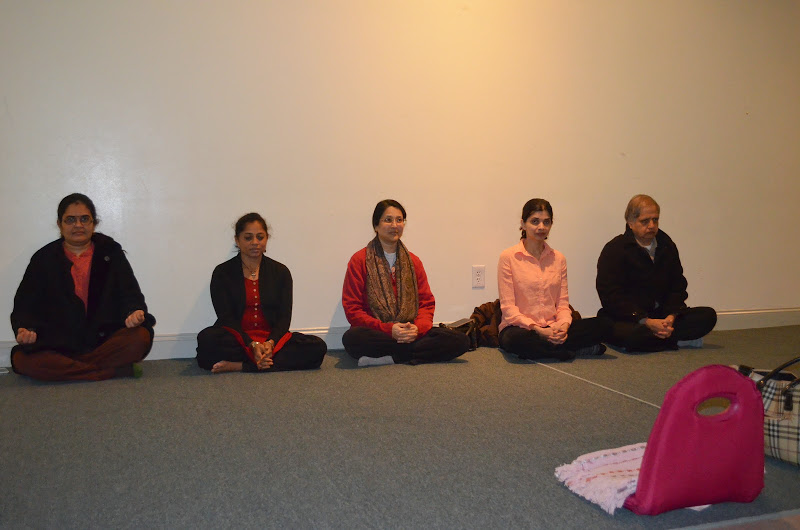 Yoga and Meditation sessions are run by a certified instructors, who volunteer for the temple.
More Information about the Sessions:
Everybody is welcome. Whether you have been meditating for a while, or you are a beginner to meditation, you are welcome to these sessions.
Meditation is not difficult. And by Sai Baba's grace it is both effortless and deeply fulfilling.
Sai Baba says "I am formless and everywhere." In meditation we access the inner temple which is in our own hearts and beings.
Feel free to bring cushions to sit on and/or blankets if you like.
You can bring only water but no other beverages or food please.
Interests/Sports
We have cricket tournaments for the grownup and regular scheduled Chess class every Sunday for young kids.
Fund-Raisers
NESSP Fund Raising
Fund Raising Programs To Support LAND & CONSTRUCTION.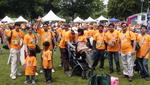 NESSP is pleased to announce the "Land Acquisition" which is an important milestone in the vision towards having a permanent "Shirdi Sai Temple". This is not possible without the divine grace, infinite blessings of almighty and incredible support of the devotees. The 28 acre land is located in the beautiful town of Groton, very close to Exit 31 off of RT-495.
The proposed temple is designed with very elegant and stupendous amenities comprising (1). Main Sanctum Floor ~6000Sq.ft of Prardhana Mandir, Beautiful Baba Mandap, Dwarakamai (Dwarkamai is one of the treasures of Shirdi. The spirit of tolerance, acceptance and welcome for all is very much alive) and Chavdi (Where baba started spending alternate nights), Office room and a Library. (2). Basement Floor features Multi-Purpose Hall, Class Rooms, Kitchen and dining hall.
On the auspicious day of Ugadi/Gudi Padwa, NESSP has announced the divine news and the fund raising plans towards the virtuous cause of making a permanent temple for Shri Sai.
Sri Sai Divine Tree: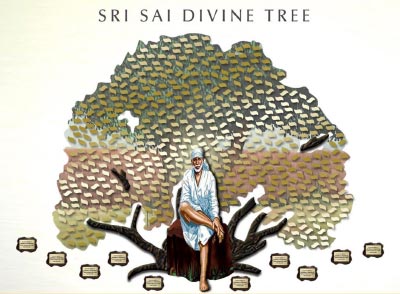 This is once in a life time opportunity to participate in the construction of Sri Sai Temple. In the new temple we will be installing Divine Neem Tree which consists of 1008 leaves with the names of the donors. We believe the divine tree at our temple will brings lot of blessings from Baba to all of us. It is also a great way to honor your family members as their names will be our temple for generations. We request our devotees to avail this opportunity and part of this holy yagna. Once we build the permanent home for our beloved Baba, our organization can focus more on spiritual and community activities.. All contributions from the program will go towards land purchase and temple construction.
Details of Divine Tree program:
The Divine tree will be permanently embellished on the temple wall in the temple.
The tree will have a total of 1008 brass leaves.
Each leaf will be etched with one or two names of the donor family.
Each donor can donate $1,116.00 or higher for a leaf.
There are different payment options for your convenience, All Donations towards this project will be TAX Deductible*
Download Divine Tree Donation Form. Click Here!
Flexible Amount Donation
Please use this button to donate any dollar amount you wish. If you would like to assign it to any particular category like Anna Daan, Day to Day Operations, New Temple Construction, etc. please send an email to finance@nessp.org.
Dollar A Day Program for Temple Operations Fund
If you wish to donate for the Temple Operations Fund using the offline method (by check), please download the

Donation form and mail us the completed form along with your check.
If you wish to pay using Credit Card you can either bring the Card and the filled form to the Temple or you can pay online using PayPal Checkout below. Please select the amount $31/ month or $365 /yr or $1000 /3 yrs and click on "Buy Now - PayPal checkout" button and you will be taken to PayPal Checkout page.
Temple Construction Fund
Please select the amount and click on "Buy Now - PayPal checkout" button and you will be taken to PayPal Checkout page.
If you wish to donate using the offline method (by check), please download the

Donation form and mail us the completed form along with your check.
NESSP is registered as a Non-profit organization. All donations to NESSP are tax deductible under IRS section 501(c)(3).
Note: Please allow pop-ups from nessp.org as these actions launch a new window which could be blocked by your browser.
Call (978) 528 1985 or send email to fundraising@nessp.org if you have any questions / for more details.